Are Data Efforts a Waste of Time?
Marketers are focusing more closely on data to meet their customers' expectations and provide personalized experiences, but are these efforts worth the time they take?
According to recent research from Square Root, US data professionals want to find more effective ways to collect, manage and understand data, and—in particular—to avoid wasting time.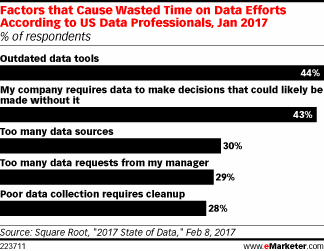 Slightly less than half of data professionals surveyed believed their time was not used efficiently because they either use outdated tools (44%) or could simply make some decisions without data (43%).
Over a quarter of respondents cited other time wasters from data source overkill to bad numbers. Responses from more than 500 US data professionals were collected by the Austin, Texas-based SaaS company in mid-January.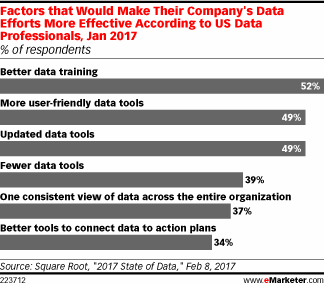 Because much priority has been put on data-driven marketing recently, it's no surprise that practitioners are evaluating ways to make their data efforts more effective. Square Root's study, in particular, found more than half of data professionals felt they could use better training, closely followed by another 49% who desired more user-friendly or updated data tools.
While the scope and complexity of data can appear daunting, in general US companies are investing because they're seeing the benefits to the bottom line.
In December 2016, four-fifths of US executives surveyed by NewVantage Partners said their backing of big data has been "good and moderately successful" or better. In fact, many of those surveyed said data efforts have enabled them to reduce expenses, create new avenues for innovation and more.
This article was originally publshed on www.emarketer.com and can be viewed in full
(

0

)
(

0

)