B2Bs Are Keen, if Vague, About Big Data
B2B marketers in Western Europe and the US appear to be mostly optimistic about big data and its future with respect to commerce. However, according to November 2016 research, less than half believe their entire organization is fully up to the task of putting big data to use.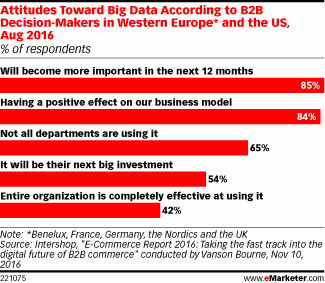 For many marketers, a key challenge in using big data is uncertainty about the data that they have, either in terms of not knowing the scope of available data, or in terms of data quality. A study from Loudhouse Research, published by Experian Data Quality found that more than half (56%) of UK and US executives said bad data had contributed to lost sales opportunities for their organizations. The same study cited challenges such as lack of budget and skills to fix the problem.
The unease of these executives is likely due to the fact that they're also trying to keep up with their customers' relentless appetite for various tailored ecommerce system features. In the Intershop and Vanson Bourne poll, executives said their customers are looking for everything from personalization (42%) and post-sales care (40%) to search functionality (29%)—many of which both produce and require big data sets.
This article was originally published on www.emarketer.com and can be viewed in full
(

0

)
(

0

)